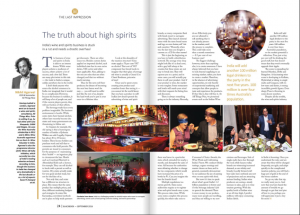 The Business of Wine & Spirits in India
Authored by Sommelier Nikhil Agarwal for Black Book India
The Business of Wine and Spirits in India is like an intensedrama movie. There is little success for some and a lot of success for a few; lot of plot twists and equal amount of pain and suffering. Actually I think the business of wine and spirits in India is unlike the wine and spirits business anywhere else in the world.
I don't think anyone getting into the alcohol business in India ever imagined that it would be so complicated. However, here lies the secret that all of us in the business know; because it is complicated and ruthless it will keep a lot of people out and if we hold on with all our might we will see fruition of our efforts.
Things have changed very dramatically in the last decade or so, more so than the decade before but then a lot of things haven't changed at all.
The beverage trade in India faces every problem you can imagine. We have a hostile business environment, some states are dry while some have recently become dryandmany are threatening to do so..
In Gujarat for example, the old saying that more bottles of Johnnie are sold there than produced is probably true. In the legal sense,Gujarat has about 30 to 35 license holders. These license holders can purchase stock and sell to consumers who themselves have permits. The permits to consumers are given to those who need alcohol for maintaining their health. Maintaining their health….just genius.
The Courtyard Marriott in Ahmedabad holds such a license for example. They can sell to these health minded locals or international tourist, business travellers and of course the celebrated NRI's because they have an international passport and are notgoverned by the same laws as we are. Dry states actually make for very good alcohol trade but not for the likes of us.
Besides custom duties on a central level for the imports and each individual state has its on own take on excise duties, VAT, octroi and other taxes.
Each state with a different tax regime means multiple cost cards, multiple prices for the same product, different strategies on schemes and marketing, different marketing budgets and in some cases like in the state of Karnataka convoluted methods to get the right discounts to our trade partners.
Also, just to make things more fun, the rules are often changed and without too much warning either. There you go, younew craft beer producer you, we're not going to let you live your dream of being the next beer baron come true so easy. You have got to suffer just like the rest of us crabs despite your hard work and once in a lifetime idea.
I mean, some states have 70% VAT.  That sort of VAT component has forced locals of that state to imagine that their glass of average red is Cru Classe Bordeaux.
What else can I share with you? Oh yes, imagine a world with all of the above,it's not too hard. You've spent crores creating your product and countless hours fine tuning it to be right but you cannot let the world know you have a product to sell.
You can't advertise wine and spirits brands in India. Sure, if you got the money you do mineral water with the same logo and brand name or even bettersell "cd's and cassettes' sort of surrogate branding but you cannot say hey, have you tried my wine on a mass scale. Honestly when truly was the last time you bought a cassette or a CD for that matter?
Then you have your route to market to contend with. The average wine shop might look like it's a dead zone with a guy half asleep at the counter.  But I got to tell you; they are not easy. They will squeeze you to a point where in some cases you actually pay them to sell your product. And if your product is wine, you'vegot it even tougher. Some restaurants and hotels will make your mind numb with their requests for listing fees and discounts.
Another case in point that recently created some havoc (there's always something going on here) is that sales of wine were stopped in a particular state for about a month. Yes a month because they were debating changing some tax component that wouldchange the price of a bottle to the effect of Rs 1 per bottle. Can you imagine what the loss on sale is for a month for a brand?
State excise authorities will ask us to do label registration for wine and spirit brands once a year, this process takes some time. Some states are faster than the others and some take what feels like eons. Effectively you are not allowed to sell anything that is not already in the market till the process is complete. This could take more than a month sometimes. A month is 8.3% percent of our business year but no worries; our businesses only just support our lives.
The biggest challenge however, more than anything else is awareness. We just don't know enough or anything on the larger scale. I have always believed that we in the trade have to look beyond supplying to an existing market but in fact we have to create a market. Like someone told me many moons ago, you cannot always preach to the converted. Therefore in the absence of advertising opportunities we rely heavily on experiential marketing and concepts that allow people to taste and experience. If they like it they will buy. At All Things Nice we pioneered the Indian Wine Consumer's Choice Awards, Wine Week and Celebrating India's Finest. We do whisky tastings and cognac evenings with ferocious intensity in numbers. We show people through experience the joys of pairing wine or even spirit with food. Conduct master classes on beer and in general constantly push the envelope on getting you to try different beverages.
I want to go on but I got to switch sides now and talk about the good stuff. There is a lot of it and a lot more of it to come. So much so that a lot of the troubles mentioned above are even accepted.
India's 1.2 billion is thirsty for the most part. At every level of society you've got some serious thirst going on and it's the beverage the industry's job to quench it. Well someone's got to do it, and that Ferrari is not going to paying for itself right?
More money in our pockets, many more people having travelled, people willing to try new cuisines and beverages and the Gods at Masterchef Australia have turned India's upwardly mobile middle class into bastions of consumption.  Single malt sales have gone through the roof,luxury vodka brands are increasing in numbers. Whisky and brandy sales will make your mouth water. Locally brewed craft beer sales have outfoxed any sort of projections and have attracted serious funding. Indian wine producers are seeing a steady increase in sales and so is wine tourism. With the quality levels of Indian wine at an all time high, I predict millions of people will get onto the Indian bandwagon very soon.
India will have another 100 million legal drinkers (age limit wise) in the next 5 years. 100 million is roughly 3 Australia's my fellowpeople so the market potential is ridiculous. True a tiny percent of the current and the new 100 million people will be drinking the good stuff but that doesn't mean that eventually they won't.
It isn't only about Mumbai, Delhi and Bangalore anymore. Kolkatta has a fascinating wine scene that's developing (all that maroo money), Hyderabad is taking to single malts and Gurgaon with its low taxes and duties is seeing incredible growth figures. Even sleepy Pune is throwing in some descent numbers.
Despite all the troubles, the wine and spirits industry in India is booming and once you know the rules and understand that they will be changed frequently and that you will have to adapt and you are able to see through all the complicated taxation policies you will find that there is a huge pot of gold at the end of the booze rainbow.
So go on take that sip, we really want you to. And now that you have heard a little about just how much trouble we go through to get it to you perhaps you will appreciate it just a tiny bit more