The Distillery: The Ardmore distillery sits at the highest point of the Northern railway line, 600 feet above sea level. Close to the small village of Kennethmont, this railway line was used to transport materials from Glasgow to the remote corner of Aberdeenshire, helping the distillery flourish.
The water is still drawn from the naturally rising springs that sit on the 1,500 foot tall Knockandy Hill.
Those who live on the rugged fringes of the Highlands embrace the freedom of the great outdoors and The Ardmore brings together the power of nature in every drop that travels from our distillery.
TASTING NOTES AND DETAILS ON VARIANTS:
Ardmore Legacy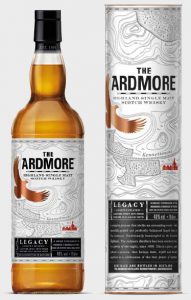 The Ardmore Legacy celebrates the distillery's unique location on the fringes of the Highlands, offering a lightly peated liquid that is sweet and uplifting. The gentle flavour fully captures the essence of this spirit's stunning Highland home. The Ardmore® Legacy will appeal to experienced peated malt drinkers and newcomers, alike.
Colour – Light golden.
Nose – Heather Honey with hints of cinnamon and toffee bonbon. Very subtle hints of peat smoke.
Palate – Creamy vanilla spice gives way to more overt smoky charcoal notes, especially with the addition of water. Smoke doesn't dominate and is balanced by the sweet honey and spice flavours.
Finish – Full bodied, silky mouth feel with a dry, tangy and lingering aftertaste, coupled with delicious spice notes.
ABV – 40%
Ardmore Tradition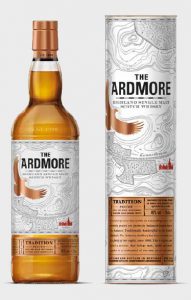 A Travel Retail exclusive, The Ardmore Tradition is a taste of history itself, journeying back to a time when most Highland distilleries dried their barley with the sweet smoke of local Highland peat. Double matured in oak barrels then smaller Quarter Casks, The Ardmore® Tradition is a full and rich liquid, with unique Highland peat smoke flavours.
Colour – Burnished Gold
Nose – At bottle strength (46%), the influence of both maturations compliment each other producing a full bodied smooth aroma. The maturity comes from the American barrels and the spicy, creamy nose from the old style smaller casks.
Palate – The full rich flavours burst and fill the mouth with a creamy peat tang and a touch of vanilla's soft gentleness.
If a touch of water is added, then the flavours increase with the addition of a sweet ripe fruit start followed by a tang of peat.
Finish – Full, succulent and quite long.
ABV – 46%
Ardmore Port Wood Finish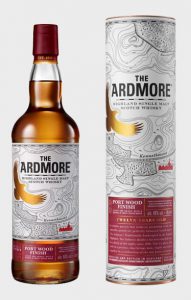 A unique and premium expression of The Ardmore. Double cask matured in American white oak bourbon barrels and European half port pipes, resulting in a liquid that is light and sweet with a balance of fruity, smoky notes.
Non-chill filtered and aged for 12 years, this ruby gold single malt has been made using the same traditional distilling methods for 100 years.
Colour – Ruby gold.
Nose – Initial nose of strawberries and summer fruits with a hint of pepper. Notes of burnt orange and cinnamon spice underlie. With water, the rich fruit aromas of red apple and cranberry intensify, accompanied by sweet honey and subtle spiced wood notes.
Palate – Sweet red apple and honey with the subtlest hint of charcoal smoke.
Finish – Initially smooth with a long, lingering finish culminating in the trademark Ardmore dryness.
ABV – 46%
Ardmore Triple Wood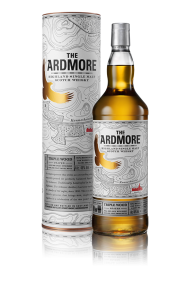 The Ardmore Triple Wood is a complex and rewarding travel retail exclusive Highland malt. Triple matured in American Oak barrels, quarter casks and puncheons, this non-chill filtered expression is rich in traditional Highland peat smoke notes.
Colour – Golden straw, natural honey.
Nose – Biscuity cereal notes and the scent of banana underlie the initial nose of ginger, burnt sugar, cherries and honey. A drop of water intensifies the ginger snap biscuit notes with a hint of cinnamon, and soft highland peat smoke.
Palate – Light caramelised sugar, toasted barley, and warming, light peat smoke are followed by sweet vanilla custard. Water releases notes of pink peppercorn, and dried fruit flavours (raisin and candid orange peel).
Finish – Light with soft peat smoke, lingering pepper and toasted almonds with a well-balanced dry mouth feel.
ABV – 46%