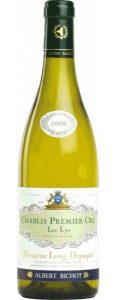 Region: Burgundy
Nature: White
Grape: Chardonnay
Aroma: Floral notes followed by subtle notes of oak and fresh fruit.
Body & Taste: Good structure on the palate. This wine is tangy, well-balanced and shows the lovely fullness one expects from a Premier Cru. A combination of linden blossom and almond give way to a long, rounded finish.
Suggested Food Pairing: Try it with dill-marinated salmon served with a warm leek and balsamic vinegar flan for the contrast of flavors. Grilled chicken, with crispy skin and moist meat is a good counterpoint to the oaky finish of this defined wine.