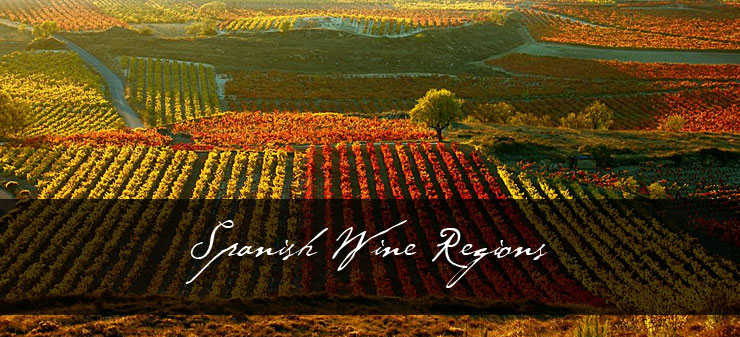 Spain is a hot, dry, mountainous country with more vineyard land than any other nation on Earth. It ranks third in the world in wine production, after France and Italy. We at ATN have a soft corner for Spanish wines; they are reasonably priced, less complicated and just as enjoyable as their European neighbours.
 There are several types of unique grapes and wines being produced throughout the entire country, offering everything from a fruity white wine to a full-bodied, bold red; so there is a wine for every person, at every price range.
Spainhas over 70 (Quality-Approved) wine regions and has more vineyards planted to land than any other country in the world. The most important region for premium Spanish reds is Rioja. The main grape for this moderate climate region is Tempranillo.  One of the pleasures of life – sipping on the classic Rioja with bites of tapas in a small wine bar in Madrid!
Rioja gives full or medium-bodied reds with medium acidity, medium tannins and red fruit flavours. It is often blended with Grenache, giving it spicy notes and higher alcohol. Much of the character of traditional style Riojas comes from the oak ageing. Oak ageing softens the tannins and gives sweet coconut and vanilla flavours to the wine. Over time some very savoury animal and vegetable flavours can develop.
Another famous wine region is the Ribera Del Deuro producing premium quality red wines from Tempranillo with black fruit notes and toasty oak flavours. Try a wine from this region with juicy Spanish chorizo for the ultimate Spanish experience.
In Navarra, Tempranillo is often blended with international grape varietals such as Merlot and Cabernet Sauvignon.  Priorat and Catalunya are two other regions you should look out for, both produce fantastic Tempranillo/Grenache blends.
Spainalso produces some interesting whites, the most famous being the Albarino primarily from Rias Baixas. These are light to medium bodied wines with fresh green and citrus fruit on the palate. These are usually unoaked with refreshing high acidity. A wide range of white styles are produced in Catalunya with local as well as international grape varieties such as Chardonnay. The traditional white Rioja is full-bodied with nutty, oaky flavours, though unoaked styles are also available.
Cava is the Spanish term for traditional-method sparkling wines. The main grape varietals used are local Spanish ones. The wines have fairly neutral fruit flavours, medium acidity and very little complexity. The next time you have a celebration, we suggest you open a bottle of Cava. It's crisp and delightful and is much easier on the pocket than its French cousin,Champagne.
Spanish wines qualify by age of maturation, or are classified by time spent in oak and bottle. A young wine without ageing is Sin Crianza. A wine that has at least two years' maturation can be called Crianza. A Reserva must be aged for at least three years of which one must be in oak barrels and Gran Reserva five years ageing in total with a minimum of two years in barrel.
On your next visit to Spain make sure you plan a trip to atleast one of these remarkable vineyards as Spain has some of the most beautiful vineyard landscapes in the world!