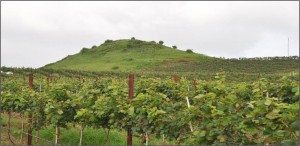 I had visited Charosa winery a couple of years ago in July 2011 (when the winery wasn't completely ready) on an invitation from Milind Pandit, their National Sales & Marketing Head.  I was blown away with the size of their operation and knew immediately that when they launched they would create a stir.
I remember the weekend I was there they were rolling in brand new barrels that had just arrived the same day.  You could feel their excitement and passion for what they were doing.
Situated in the Dindori Taluka of Nasik, Charosa has its own vineyards and also sources fruit from contracted farmers that they supervise closely. The winery is state of the art and its location is absolutely stunning; you can climb to the top of that hill in the picture and take in a 360-degree view of the surroundings. Not open to visitors just yet but it is going to be a great place to spend the weekend once they have their hospitality infrastructure in place.
The current portfolio launched in late 2013 includes a New Zealand style Sauvignon Blanc that is absolutely stunning and one of India's best.  A classy crisp Viognier made in an oxidative style, which I really enjoyed, a Shiraz that has spent some time in oak and a Reserve Tempranillo, which is brilliant. The Tempranillo grape variety has proven itself to thrive in Indian climatic conditions and we will see a lot more wineries launching their versions using this variety soon. They also have a Reserve Cabernet Sauvignon that didn't impress as much as the others but I think the next vintage will be much better. What I really like about Charosa is that they are making efforts to be different. For example they haven't included a Chenin Blanc in their portfolio, a gutsy move that I respect. All wines are bottled in screw cap, which in India makes complete sense.
My only grouse is that they too have become part of this new trend for wineries in India to price one or two of their wines at around the Rs 1500 and above mark, a trend I don't support.
Charosa is a great example of the level of wine quality India can produce when we put in the right effort and investment. Milind and the team have set high standards right from the get-go and we look forward to seeing what else this winery will offer in the future.
Tasting Notes: (Provided by Charosa Wineries)
Charosa Vineyards Reserve Cabernet Sauvignon: Dark ruby red with complex aromas of ripe fruits, black olive, vanilla, eucalyptus, chocolate, with hint of sweet spice.    On palate wine is rich and soft, expressing ripe fruits like plum, raspberry.     Full bodied this wine finishes with well balanced tannins. MRP Rs.1500/-
Charosa Vineyards Reserve Tempranillo: Dark Ruby-red in color, the nose is filled with rich coconut, vanilla, chocolate & raspberry aromas.   Medium-bodied with excellent concentration of warm red fruit flavors like raspberry, strawberry & plum are distinctly ripe and fleshy.  Round and soft finish is an endless display of well balanced wine. MRP Rs.1500/-
Charosa Vineyards Selections Shiraz: Ruby red , bright, fresh dark fruits on the nose with some vivid raspberry, strawberry, cherry, vanilla and toasty aroma notes. The mid palate expresses ripe red fruit and mature tannins. Great spicy finish with a hint of oak. MRP Rs.800/-
Charosa Vineyards Selections Sauvignon Blanc: Bright straw yellow. Lively intense flavors of tropical fruits with gooseberry and orange flavors on mid palate The palate is broad, balanced and quite rich with tropical fruit and a grassy mineral freshness. MRP Rs.750/-
Charosa Vineyards Selections Viognier: Bright straw yellow. Very rich, fruity floral nose, luscious edge displaying sweet spices like cinnamon and delicate apricot aromas. On the palate this is full, and soft silky texture imparted by short ageing in new French oak barrel. MRP Rs.750/-
By Nikhil Agarwal