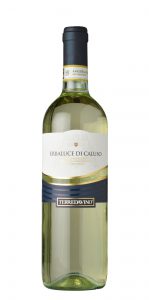 Grape variety: Erbaluce
Alcohol: 12.0 % vol.
Serving temperature: 8° – 10° C
Erbaluce di Caluso is a white grape that flourishes in an area north of the province of Turin. Loose, mineral-rich, morainal soils abound around the magnificent Lago di Viverone. Vines are traditionally trained here to the half-pergola, open on the south side, and they show luxuriant foliage and vigorous growth.
A 16-18°C cultured-yeast fermentation lasts some 10 days, and yields a wine that honours the erbaluce di Caluso grape: the light (luce) of the sun is reflected in its appearance, while the classic varietal touch of grassiness (erba) is evident on the palate.
Description
Colour: Straw yellow with greenish highlights
Bouquet: Appealing and crisply herbaceous, showing rich scents of wildflowers and hay
Palate: Dry, harmonious, marked by citrus fruit and a subtle mineral quality