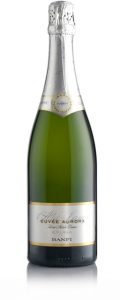 Vinified at Banfi Piemonte estate cellars in Strevi, this elegant wine is the expression of the Alta Langa project.
GRAPE VARIETIES: Pinot noir (70%) and Chardonnay (30%). All grapes are selected and hand-picked in hilltop Piedmontese vineyards located in the provinces of Cuneo, Asti and Alessandria.
PRODUCTION TECHNIQUE: Soft pressing of the grapes is followed by clarification of the must and by fermentation at controlled temperatures. 10% of the cuvée consists of the previous vintage wine, aged in barrique. Fermentation takes place in the bottle according to the Classical Method. Yeast contact is extended for at least 30 months followed by traditional hand riddling (remuage) on pupitres and dégorgement à la glace.
DESCRIPTION
Color: pale gold colour with tiny and persistent perlage.
Bouquet: intense and fragrant with notes of yeast and vanilla.
Taste: on the palate the wine is well balanced with gentle acidity and harmonious with a soft hint of bitterness on finish.
WINEMAKER'S NOTES: Alta Langa is a new Piedmontese DOC appellation. In each bottle of Cuvée Aurora, the current vintage is enriched by the addition of 10% of the previous vintage cuvée aged in oak barrels. The result is very round, rich and long aging sparkling wine.