Food and Wine Pairing by Sommelier Nikhil Agarwal, CEO at All Things Nice
The role of hotels and restaurants to get people in India to drink wine along with their meals whether when out or at home cannot be overstated. If our restaurants and hotels can create programs that make it easy for their guests to understand styles of wine and what would best be suited to eat along with it, the scenario of wine consumption in India would be a very different story.  Importers and producers unfortunately do not have the ability to engage customers directly in the numbers or frequency that hotels and restaurants are able to and that is why the experience or guidance the guest receives at an establishment is paramount. It not only translates in the experience they have when dining out but also what they will pick up and utilize when they go home.
I would recommend every hotel to have a Sommelier for each of its restaurants if not atleast one for the hotel itself in addition to having a highly trained team and certainly a Sommelier at every top end stand alone restaurant that takes its wine program seriously. Most consumers are baffled by the notion of pairing food and wine and would be happy to accept advice. In addition if the style of wine is shared in the form of a description below the name of each wine, a good wine by the glass program to enable experimentation and perhaps a few suggested pairings I am sure that the program would be a winner. Until we get tot that stage here are a couple of very simple suggestions when guiding guests through their wine and food choices that you should keep in mind to elevate their experience.
You should pair wines that are light bodied  – Sauvignon Blanc, Pinot Grigio with lighter style dishes and fuller, heavier dishes with heavier bodied wines – Oaked Chardonnay or Cabernet Sauvignon come to mind. In a nutshell keep the body of the wine (the weight/intensity of the wine on your tongue) in line with the weight of the food.
Just as important is the dominant flavour.  The dominant flavour of what is being eaten is the one that we should be looking to pair with the dominant characteristics in the wine. This is especially true of Indian cooking where the typical paneer or chicken is often just a medium for the taste of the gravy. The same applies to pasta for example. The choice of wine would largely depend on the sauce and not the spaghetti itself.
How is the being cooked? Is it stir-fried, cooked in the tandoor, grilled, roasted etc.? Different styles of cooking will give the ingredients different textures and flavours and therefore accordingly you would need to find a wine to match.  Stir-fried vegetables will take on oil and will need a wine with good acidity to break through the oil. At the same time that same vegetable when grilled will take on some char and weight and would go well with a wine with some tannins and body to match.
Talking about stir-fry, oily or for that matter fatty foods need acid to cut though the fat, so pick a wine with good acidity when eating something fried or simply oily. Wines with good acidity pair well with salty foods as well.  To give you an example – Chèvre has a lot of fat and when you take a bite of cheese and then sip on a chilled glass of wine with good acidity, the acid cuts through the fat opening up the cheese in your mouth.
To finish, a very simple pairing  – to pair sweet food with a dessert or sweet wines. Keep in mind that the wine has to be sweeter always. A sweet dessert with a Late Harvest wine or another style of sweet wine will give your guests a dose of culinary pleasure that will blow your mind.
Last but also very important is that India has one of the greatest culinary traditions on the planet. Our cuisine changes every 100 kilometers and is very different from north to south and east to west. Not suggesting wine to go along with Indian food is a sin and any of the above pointers can be applied to Indian food as well.
For example a Vada Pao with an oaked Chardonnay or a prawn curry with a chilled dry Riesling. Kebabs with medium to full tannic red wines are standard and I promise if you get a guests to enjoy a chilled rose with an aromatic biryani you will earn their respect.
As you can see the examples are varied and the idea is to show you just that – variation. Guests come to your restaurants and hotels for pleasure and giving them a good glass of wine to go along with their food will do just that.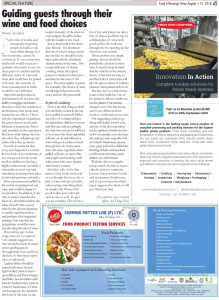 Link: http://www.saffronmedia.in/eMagazines/fnb/2018/FNBAug01152018/html5/index.html