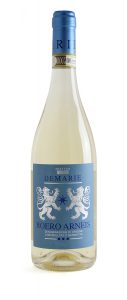 In traditional local culture, the name Arneis is given to someone who is an extrovert, a bit of a rebel, original but with a certain charm. For this reason we are proud to present this fine white wine from the Roero hills, as it shows all the excellent qualities of its name. The sandy terroir provides this wine with a full intense aroma, and the limestone and clay, its strong body and structure. One of the great white wines of Piedmont, Arneis is the result of a lucky rediscovery, due to the intuition, headstrong passion, and the business capacity of the winegrowers of the Roero region. Within a very short time, this authentic champion of local winemaking has made itself a name in the list of international quality wines.
Variety: 100% Arneis grapes
Colour: brilliant, sunny, bright with shades of straw yellow and green reflections
Scent in perfume: full-bodied, robust and intense, composite and delicate. Floral as well as fruity nuances of broom, camomile, peach and apricot
Flavour: dry, palatable and pleasantly harmonic. Fresh and persistent with a slightly almond aftertaste
Best served at: 8-10° C. – 47-50° F.
Food matches: excellent as an aperitif, it is perfect with hors d'oeuvres, light, vegetable first courses. Ideal also with fish or poultry