Winners of Asia's most trusted wine competition announced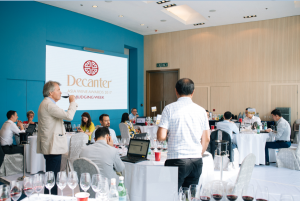 The list of results is complete with full wine details, stockist information and tasting notes – a trusted source of wine recommendations for wine consumers in Asia.
A total of 3,235 wines were tasted in the Decanter Asia Wine Awards 2017 (DAWA 2017), the most since the competition launched in 2012. Fifteen wines have been awarded the Platinum Best in Show medal – the highest accolade.
"The sole purpose of the DAWA is to recognise and award quality. Originality and terroir are the most important for a wine to win an award.", said Steven Spurrier, DAWA 2017 Chair. A majority of judges are based in Asia and include top sommeliers and Masters of Wine from 11 countries.
The Results
Australia continued its success from last year's competition by taking the lead with two Platinum Best in Show medals for the Best Single White-Varietal and Best Chardonnay, both won by McGuigan. Australia has won Best Chardonnay for the second year, plus seven Platinum Best in Category and 26 Gold medals.
Argentina performed extremely well this year with three Platinum Best in Show, including one for the Best Red Bordeaux Varietals, one Best in Category and four Gold medals.
China performed well too, with Shanxi's Grace Vineyard winning the Best Red Single-Varietal
China won 142 medals in total at DAWA 2016, compared to 12 medals two years ago.
France remained a strong winner with Bordeaux, Champagne, and Rhône winning a Best in Show medal each.
Italy also received a top medal for Best Red Italian Varietals for a red wine from Campania.
Spain won a Platinum Best in Show for Best Red Spanish Varietals, while Germany won one for Best Dry Riesling.
South Africa shone amongst Old World contestants by winning a Platinum Best in Category for Best South African Red Bordeaux Varietals.
The USA also scooped two medals for Best USA Red Bordeaux Varietals and Best USA Sweet in Platinum Best in Category.
Decanter's tasting director, Christelle Guibert, said: "We gather some of the best and most influential wine experts across Asia to join our judging panel to find the very best wines for consumers."
Where to taste the DAWA winners
New winners will be promoted at both trade and consumer events this year.
Wine lovers will have the opportunity to taste a selection of 2017 winning wines in Hong Kong, Shanghai and Seoul this winter, including the Decanter Shanghai Fine Wine Encounter on Saturday 18 November. DAWA wines will also be featured at retail stores, restaurants and hotels across Asia.
About DAWA Judging Week
Over 50 top wine experts from across Asia joined our judging panel this year, led by Chair Steven Spurrier, Decanter's consultant editor, and vice-chairs Ch'ng Poh Tiong, Shinya Tasaki, Gerard Basset MW MS OBE, Michael Hill Smith MW, Andrew Jefford and DecanterChina.com columnist Li Demei.
Joining this year's line-up is Sonal Holland, India's first Master of Wine; Tan Ying Hsien, Singapore's first Master of Wine; and Adrian Zhang, Director of Wine at the Park Hyatt Shanghai. Most judges work at top establishments in Asia.
Judges gathered together in Hong Kong on 5-8 September to blind taste wines through organised flights.
How the wines are tasted
Decanter gives every single wine tasted an individual score.
Wines that meet the required quality are given a seal of approval (commended), or a bronze, silver, or gold medal. All gold medal-winning wines within each category are re-tasted and a platinum medal is awarded to the best wine in each category.
Each platinum medal winner from around the world is then pitted against each other to win the Platinum
About the DAWA
Launched in 2012 by Decanter magazine, 2017 is the sixth edition of the competition
All wines are judged blind in the best possible tasting environment and each wine is discussed on an individual basis by the panel
Kindly sponsored by Riedel glasses and San Pellegrino and Acqua Panna water
DAWA 2017 Results
15 Platinum Best in Show medals
41 Platinum Best in Category medals
55 Gold medals
609 Silver medals
1,656 Bronze medals
DAWA 2017 Platinum Best in Show winners:
Best Dry Aromatic: El Esteco, Don David Reserve Torrontés, Calchaquíes, Salta, Argentina 2017
Best Red Bordeaux Varietals: Bodega Norton, Reserva Cabernet Sauvignon, Mendoza, Argentina 2015
Best Red Blend: Miguel Escorihuela Gascón, 1884 The President's Blend, Mendoza, Argentina 2015
Best Chardonnay: McGuigan, The Shortlist Chardonnay, Adelaide Hills, South Australia, Australia 2016
Best White Single-Varietal: McGuigan, Bin 9000, Hunter Valley, New South Wales, Australia 2007
Best Red Single-Varietal: Shanxi Grace Vineyard, Tasya's Reserve Marselan, Shanxi, China 2015
Best Sweet: Château d'Arche, , Sauternes, Bordeaux, France 2010
Best Red Rhône Varietals: Grandes Serres , Carius , Cairanne, Rhône, France 2016
Best Sparkling: Piper-Heidsieck, Rare Brut, Champagne, Champagne, France 2002
Best Dry Riesling: Hans Wirsching, Iphöfer Julius-Echter-Berg Riesling, Grosses Gewächs, Franken, Germany 2015
Best Red Italian Varietals: Rossovermiglio, Aglianico, Sannio, Campania, Italy 2015
Best Sauvignon Blanc: Yealands Family Wines, Babydoll Sauvignon Blanc, Marlborough, New Zealand 2017
Best Pinot Noir: Craggy Range, Te Muna Road Vineyard Pinot Noir, Martinborough, Wairarapa, New Zealand 2015
Best Sweet Fortified: Henriques & Henriques, Single Harvest Boal, Madeira, Portugal 2000
Best Red Spanish Varietals: Bodegas Olarra, Erudito, Rioja, Mainland Spain, Spain 2015
DAWA 2016 Platinum (Best in Category) winners:
Best Chilean Red Bordeaux Varietals: Viña Casablanca, Nimbus Single Vineyard Cabernet Sauvignon, Maipó Valley, Chile 2015
Best Chilean Red Rhône Varietals : MontGras, ANTU Syrah, Colchagua, Chile 2015
Best Chilean Red Blend : Santa Alba, Grand Reserve Syrah-Cabernet Sauvignon, Curicó, Chile 2014
Best Chilean Red Single-Varietal: Apaltagua, Envero Grand Reserva Carmenere, Apalta, Colchagua, Chile 2015
Best USA Red Bordeaux Varietals: Rocca Family Vineyards, Grigsby Vineyard Cabernet Sauvignon, Yountville, California, USA 2013
Best South African Red Bordeaux Varietals : Leopard's Leap, Culinaria Collection Grand Vin, Western Cape, South Africa 2015
Best New Zealand White: Paddy Borthwick, Pinot Gris, Wairarapa, New Zealand 2016
Best Australian Sparkling : House of Arras, EJ Carr Late Disgorged, Tasmania, Australia 2003
Best Australian Red Blend : Tyrrell's Wines, Vat 8 Shiraz-Cabernet, Hunter Valley, New South Wales, Australia 2014
Best Bordeaux Right Bank: Château Cantenac, Saint-Emilion Grand Cru, Bordeaux, France 2015
Best Bordeaux Left Bank: Excellence de Belliard, Margaux, Bordeaux, France 2015
Best Australian Red Rhône Varietals: Ulithorne , Frux Frugis Shiraz, McLaren Vale, South Australia, Australia 2014
Best Australian Red Bordeaux Varietals: Wolf Blass, Gold Label Cabernet Sauvignon, Coonawarra, South Australia, Australia 2015
Best Barolo: Casa Vinicola Fratelli Casetta, Nicolello, Barolo Riserva, Piedmont, Italy 2009
Best Sweet Regional Italy: Gemma di Luna, Moscato, Vino Spumante di Qualità di Tipo Aromatico, Italy NV
Best White Languedoc-Roussillon : Bernard Magrez, Passion Blanche, IGP Côtes Catalanes, Languedoc-Roussillon, France 2013
Best Châteauneuf-du-Pape: Domaine de Nalys, , Châteauneuf-du-Pape, Rhône, France 2015
Best Northern Rhône Red: Delas, Domaine des Tourettes, Hermitage, Rhône, France 2015
Best Argentinian Red Blend: Bodega Norton, Privada, Mendoza, Argentina 2015
Best Central & Eastern Europe Red: Georgian Wines, Saperavi, Kindzmarauli, Kakheti, Georgia 2015
Best Central & Eastern Europe White: Vaziani Company, Makashvili Wine Cellar Khikhvi, Kakheti, Georgia 2016
Best German Sweet : Nik Weis St. Urbans-Hof, Goldtröpfchen Riesling, Trockenbeerenauslese, Mosel, Germany 2013
Best Central & Eastern Europe Sweet : Szent Tamás, Aszú, Tokaj, Hungary 2013
Best Fortified Portugal : Bacalhôa, 10 Anos, Moscatel Roxo de Setúbal, Setúbal, Portugal 2003
Best Red Rioja Reserva : Bodegas Ondarre, , Rioja Reserva, Mainland Spain, Spain 2014
Best Red Rioja Gran Reserva : Bodegas Corral, Don Jacobo, Rioja Gran Reserva, Mainland Spain, Spain 2004
Best Ribera del Duero : Condado de Haza, Alenza , Ribera del Duero Gran Reserva, Mainland Spain, Spain 2006
Best Red Portugal : Fundação Eugénio de Almeida, Cartuxa EA Reserva, Alentejano, Portugal 2015
Best Sweet Loire : Château La Variere, Les Guerches, Quarts de Chaume Grand Cru, Loire, France 2015
Best Red Languedoc-Roussillon: Château de Lascaux, Les Nobles Pierres, Languedoc Pic Saint Loup, Languedoc-Roussillon, France 2013
Best Regional Italian White: La Canosa, Servator Passerina, Offida, Le Marche, Italy 2016
Best Southern Italian White: Quintodecimo, Exultet, Fiano di Avellino, Campania, Italy 2016
Best Chianti : Rocca di Castagnoli, Poggio a'Frati, Chianti Classico Riserva, Tuscany, Italy 2013
Best Red Tuscany : Caccia Al Piano 1868, Ruit Hora, Bolgheri, Tuscany, Italy 2014
Best Amarone: Cesari, Il Bosco, Amarone della Valpolicella Classico, Veneto, Italy 2011
Best Sweet Southern Italy : Ferruccio Deiana, Oirad, Isola dei Nuraghi, Sardinia, Italy 2015
Best Australian Riesling: McGuigan, The Shortlist Riesling, Eden Valley, South Australia, Australia 2009
Best Barbera: Poderi Elia, Vi Veje, Barbera d' Alba Superiore, Piedmont, Italy 2012
Best Australian Pinot Noir: Curly Flat, Pinot Noir, Macedon Ranges, Victoria, Australia 2014
Best Australian Sweet: De Bortoli, Black Noble, Cross-Regional Blend, Australia NV
Best USA Sweet: Dr. Loosen, Riesling Ice Wine, Washington State, USA 2013