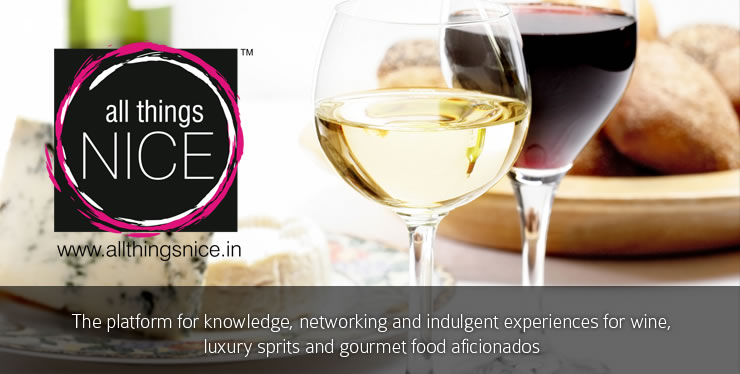 Hi,

Our concept is simple, we are here to celebrate and share fine drink and gourmet food with you through educational, social and decadent experiences.

We have within our portfolio a niche list of defined services that enable us to do just that. This month we've got a great wine as a recommendation for you and also an exciting offer on Riedel glasses in addition to a recipe from Chef Conrad of Pali Village Cafe.

As always if you require any of our services or if you simply want to catch up for a drink or two, give us a shout.

Wishing You All Things Nice

We decided to do something controversial and crush the myth that Indian food and wine do not compliment each other. Director de Cuisine Rahul Akerkar and MasterChef Mukthar Qureshi of Neel – Tote by the Turf combined forces with our very own Sommelier Nikhil Agarwal to put together a perfect 4 course wine dinner of Awadhi cuisine and a selection of eight international and Indian wines.

It's no surprise that the dinner sold out almost immediately. The guest list comprised of members of the ATN community and food and wine writers. Rahul and Nikhil talked about the flavours of the food and the wine, elaborated on the concept of the dinner and interacted with guests at their tables. It was clear that the concept was a success, everyone savoured the flavours of the food and appreciated the way the wine complimented the courses.

The wines were served in Riedel – the world's finest glassware, only enhancing the wine tasting experience.

All Things Nice & Woodside Inn Andheri come together every month to showcase international beers. This time, we featured the Viru Lager from Estonia, Fuller's London Pride, Schneider Weisse from Germany, Murphy's Irish Stout, Liefmans Fruitesse and Duvel from Belgium. Nikhil compared and contrasted the beers and took patrons through the art of beer tasting. This event is always fun with interesting people coming together for the love of beer; you leave with new friends every time! Come for our next beer tasting at Woodside, Andheri on the 9th of August 2012.

All Things Nice Private Tastings

With the weather all wet and unpredictable, we're sure you are looking for ideas to entertain your guests at home. Host your party and kick-start it with an exciting single malt, beer, cognac or wine appreciation session.

It's quick, interesting and stimulates the party mood for sure. The two hour session in your own home will be hosted by Nikhil Agarwal, Sommelier & Director of All Things Nice. We come with our own wines, beers or spirits, glasses and staff so you can sit back, relax and impress your friends. Get in touch with us for your next 'night in'. Take it a step further and let our own guest Chef to cook for you!

Woodstock Estate Shiraz, McLaren Vale 2009 Australia

We recommend you stock up on our pick of the month – the Woodstock McLaren Vale Shiraz 2009 Australia. We love the this stylish and vibrant Shiraz which shows bursts of blackcurrants, spice and subtle hints of dark chocolate. The palate is full and rich in flavour, lush dark berries coat the mouth while savoury tannins provide an alluring texture that lingers. A food friendly wine and a classic example of McLaren Vale Shiraz in the glass. You must try it!

Got Something Nice to Share?

Write to us atinfo@allthingsnice.in or
call +91 99203 75444

A set of Riedel glasses with Woodstock Shiraz

Buy a six bottle case of the Woodstock McLaren Vale Shiraz 2009, and we will throw in the perfect glasses to drink it with. Over the past 50 years, Reidel – the Austrian clan of master glassmakers has done more to enhance the wine drinker's pleasure than almost any winemaking dynasty. They are the pioneers of inventing the first functional wine glass that was shaped to be designed for the character of the wine.

Order six bottles of the Woodstock Shiraz and get a pair of Riedel Syrah glasses free! Offer valid till stocks last. Limited period offer, call 9920375444 today to order.

Our guest Chef of the month Conrad D'Souza of Pali Village Cafe has put together a recipe just for the All Things Nice community. Try it and send us some pictures, we will feature you in our next newsletter! Click here to see the recipe.