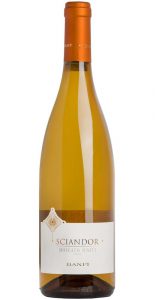 Castello Banfi owns an historic 45 hectare estate in Strevi – Piedmont, named Banfi Piemonte.
Its vineyards are located between the towns of Novi Ligure and Acqui Terme, in an area passionately dedicated to producing the renowned traditional wines of Piedmont. The winery, established in Strevi in 1860, was purchased by Banfi in the late 1970s to complete its Piedmont estate.
The Banfi Piemonte portfolio boasts a wide range of products which includes unique sparkling wines, whites, and reds, all of them bearing the prestigious appellations of Piedmont.
Grapes grown in Strevi's hilltop vineyards, traditionally dedicated to the production of Moscato grapes
GRAPE VARIETIES
Moscato 100%
PRODUCTION TECHNIQUE
The selected grapes are gently pressed. The must is then filtered and fermented in stainless steel tanks at controlled temperatures between 17-18° C until an alcohol content of 4,5% is reached.
DESCRIPTION
Colour: golden pale straw.
Bouquet: varietal aromas, delicate with hints of peach blossom and ripe fruit.
Taste: soft, well-rounded, reminiscent of honey, with subtle hints of raisins on the finish.
WINEMAKER'S NOTES
Soft and lively, Sciandor, our Tappo Raso wine, is made from ripe grapes grown in Strevi, the area more dedicated to the Moscato grape than any other region. This wine expresses, at their best, all the typical sweet and aromatic characteristics of this varietal.