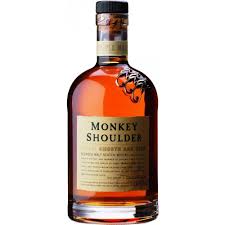 Monkey Shoulder: The term "Monkey Shoulder" harks back to our whisky making heritage. It's a reference to a condition that malt-men sometimes picked up while working long shifts, turning the barley by hand. It had a tendency to cause their arm to hang a down a bit like a monkey hence the name.
The Whiskey is created by combining single malts from three of Speyside's finest distilleries. The result is a smooth, creamy, supple and very malty Scotch which works superbly well neat, over ice, or in whisky cocktails (where it really excels).
Region: Speyside, Scotland
Barrel: Ex – Bourbon cask
Nose: This Whisky is elegant and stylish with nose of marmalade, cocoa, spice and anniseed
Palate: Very malty, creamy delivery with a suggestion of berry fruit. Cloves and butterscotch, hot-buttered-toast and dried apricot.
Finish: Medium length, spicy oak and a hint of peppermint on the tail.