About Paul John
Created at a distillery in Goa, Paul John whiskies are matured in a warm and tropical climate, with the angels claiming a generous share. But that isn't the only reason to try Paul John whiskies. Here are a few more.
1. A versatile selection
Their whiskies cover a spectrum of flavour profiles. The flagship expressions, Brilliance, Edited and Bold are perfect for someone who's never tried an Indian Single Malt. Brilliance is unpeated, while Edited flirts with a hint of peat, and Bold is redolent with notes of peat. Besides our flagship collection, we have Select Casks (Classic and Peated), which have been crafted with whisky chosen from special cask profiles. They are a true delight to any world whisky lover. And our Single Casks, the crème of our creations, are for the true connoisseurs. You can view all the tasting notes here.
2. Internationally acclaimed
Our expressions have the won the hearts of critics, connoisseurs and juries the world over. Besides being awarded the Liquid Gold rating in Jim Murray's Whisky Bible, our whiskies have bagged prestigious awards like The Luxury Whisky Masters awards for 2016, Spirits Selection Award 2016, IWSC Award, and many more. You can view all our achievements here.
3. Made in India
Paul John is quintessentially Indian. While our processes may be traditional, the ingredients we use are indigenous. Our 6-row barley comes from the foothills of the Himalayas, and the water is sourced around the distillery in the Western Ghats of India. Our Master Distiller, Michael D'Souza, has captured the vivid vitality of India in every dram of our creations. With every sip, enjoy a glimpse of India's most treasured secrets.
4. Non chill-filtered
We believe in retaining the soul of the whisky. That's why our expressions have no artificial colouring or flavouring. And they are all non chill-filtered.
5. Loved in over 25 countries
Since our launch in 2012, Paul John whiskies have delighted whisky lovers across the globe.
The making of The Great Indian Single Malt is a story unto itself.

The beautiful landscape of Goa inspired them to create many variants. With the help of Master Distiller, Michael D'Souza, they skilfully drew out the stories of Goa in their Single Malts. To bring them alive, they set up a distillery with the best of time-tested processes and new-age technologies. They called in experts from the UK to install a set of traditionally designed copper pot stills, with a production capacity of 3000 litres a day.
The natural, warm temperatures of Goa work in their favour, allowing their whiskies to mature faster. The angel's share of our Single Malts is around 8% per annum. For maturing the malts, they use carefully selected American white oak casks, and store them in an underground temperature-controlled cellar.
What comes of this process is sheer magic.
Michael D'Souza: The man behind The Great Indian Single Malt.
His passion for whiskies drew him into the world of distilling in 1993. With time, his love for the drink and knowledge only increased. In 2009, he became the Master Distiller at John Distilleries. He brings to the fore all his skill and helps us craft our Single Malts. Each one perfect to the last dram.
Michael lends his expertise to every stage. Right from the critical stage of mashing to fermentation, distillation and maturation of the whisky. He also keeps a keen eye on the blending and preparation of whisky for bottling, making sure the highest standards and expectations are met.
Michael was recognized as the 'Master Distiller/Master Blender of the year 2017' at the Icons of Whisky India Awards. These awards have been initiated by The Whisky Magazine to recognize and "celebrate the people and places behind the great whiskies of the world". An independent editorial panel draws up a shortlist from all the entries, and the winners are picked. This year, the India awards were held in Mumbai on 15thAugust 2016. And it was a true honour to be selected for this award.
Paul John Brilliance – All the brilliance of Goa is bottled up in this Single Malt. Its sparkling hues are reminiscent of sun-kissed beaches. The six-row barley for this whisky comes from the foothills of the Himalayas. Brilliance is matured in bourbon casks, to give you absolute sensory delight.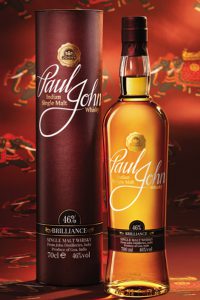 Colour – Sparkling copper.
Nose – The Demerara sugars give off a whiff of sweet fragrances, with a hint of cinnamon, dash of honey and faint spices.
Palate – Sweet and spice and all things nice, make this Single Malt. The honey-like smoothness is offset by the crunchy-bar-like crispness. Somewhere, there is also a tinge of cocoa.
Finish – Brilliance has a smooth and beautifully relaxed finish, with a hint of mild spices and deep intense vanilla.
Pairing – With its rich accents of vanilla and subtle hints of spice, this Single Malt is the ideal accompaniment to luscious fruit pies and Indian grilled meat dishes.
***
Paul John Edited – Edited is for the extraordinary. We poured forth all our mastery into crafting this Single Malt. The hint of peat has been skilfully created from discreetly chosen cask profiles. All to delight the true whisky connoisseur.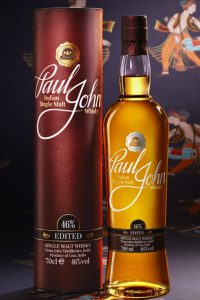 Colour – Amber gold.
Nose – Honey and cocoa are laced with a hint of smokiness and a shot of espresso. A deeper whiff reveals fruity fragrances.
Palate – The grassy flavours of barley show up first, but gently make way for subtle peat notes. They slowly dissolve and pave the way for a rush of mint and mocha.
Finish – The finish is long and drawn out. You can sense a hint of spice and chocolate mint as it ends on gentle peat notes.
Pairing – The hints of peat and chocolate mint in this Single Malt are perfect with a mildly spiced lamb stew, or even dark chocolate.
***
Paul John Classic Select Cask – Explore tropical Goa in every sip of the Select Cask Classic. The lush freshness of this Single Malt envelops you from the very beginning. To give you this experience, we've matured it in selectively chosen cask profiles and bottled it without chill filtration, at cask strength.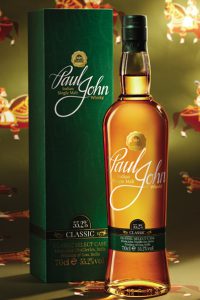 Colour – Rich amber.
Nose – Fruity, malty aromas are intertwined with honey. A hint of bourbon teases your senses.
Palate – With the very first sip, flavours of malted barley greet you. A heady mix of bourbon and manuka honey-liquorice makes for an attractive spine. And while you relish this experience, the unexpected flavour of toasted honeycomb takes you by surprise.
Finish – This Single Malt has an absolutely elegant finish, with juicy Demerara tones ensuring a soft, friendly finish.
Pairing -The spices from the oak and the mellowness of this elegant Indian classic are a perfect match for smoked salmon, ham or a sinful chocolate soufflé.
***
Paul John Peated Select Cask – One never tires of Goa. From exploring its various personalities, its past, its present, its sheer decadence or perky cheer. For the true explorer, Goa always has a surprise tucked up its sleeve. Much like the Paul John Select Cask Peated. This Single Malt astonishes even a seasoned whisky aficionado. Unexpected flavours balance each other, offering the perfect tipple.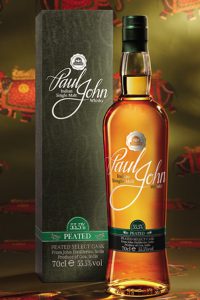 Colour – Golden mahogany.
Nose – The smoky, sweet and earthy fragrances have mellow resonances of spice.
Palate – As the crisp Muscovado and Demerara sugars create layered nuances, the smokiness of the Single Malt sets in, creating a perfect balance. A hint of spice radiates from the hickory and Dominican-style cocoa.
Finish – The delicate finish of this Single Malt has notes of Dominican cocoa laced with the tart edge of marmalade.
Pairing – This extremely complex whisky needs food that can complement it well. Tender, juicy steaks and blue cheese can help you unravel every nuance of this magnificent malt from Goa.
***
Paul John Single Cask Unpeated – Intensely passionate – like Goa, its people, its beaches, and its very essence – the Single Cask Unpeated sweeps you up in a swirl of emotions. The interplay of fragrances and flavours paints a vivid picture of the bustling spirit of Goa.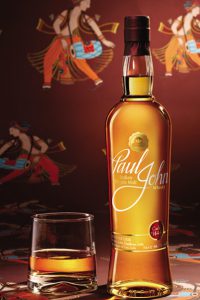 Colour – Rich Vibrant amber
Nose – This Single Malt takes you to that comfortable, favourite corner in an oaky den.
Palate – The wholesome taste of malt takes centre stage, while oaky flavours mixed with tart butterscotch sweetness drift in. A succession of delicate sugary tones, stirred with lovely spices, flutter in next. The underplay of malt resonates with a crisp, biscuity bite, while the intense barley never lets go of the oakiness, radiating richness far and wide.
Finish – The intense notes of barley and soft oaky spices radiate far and wide, giving it a rich finish.
***
Paul John Single Cask Peated –  The starlit skies, the crackling bonfires and barbecues sizzling on the sandy beaches go hand-in-hand with the warm and relaxed spirit of Goa. To toast the mellow mood of the place, we crafted this Indian Single Malt. Its distinctly young flavours are highly nuanced, making it a perfect drink for an evening by the beach.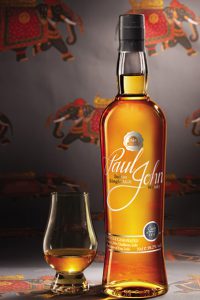 Colour – A gleaming, rich mahogany.
Nose – The tantalising aromas of rich smoky bacon mingle with intense peaty aromas. A surprising hint of eucalypts gives it a distinct and reverential signature. As the scents and hints of assorted spices tingle your senses, the rich Demerara undercurrent draws out a fine balance.
Palate – A subtle sweetness embraces your taste buds, inviting you to explore the rare peaty, malty, smoky depths, rounded by the slightest hint of fresh barley. And just when you sink into the flavours, an oaky taste of vanilla and toasted fudge tickles your palate.
Finish – The finish is surprisingly complex for a whisky this young.
***
Paul John Bold – Bold is a journey that leads you down the unexplored, unchartered terrains of Goa. It offers you a slice of its best-kept secrets, unravelling the mysteries, bit by little bit. This expression of ours invites you to leave the trail, tread the path less taken and plunge headlong into the delicious depths of Goa.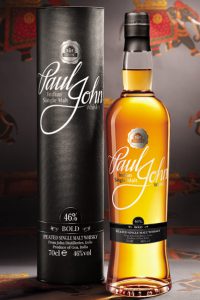 Colour – Liquid gold
Nose – After the slightest whiff of smoke, a dizzying array of Manuka honey, prickly spice and red liquorice takes over.
Palate – This melt-in-the-mouth malt has the most profound flavours crashing in like waves. At first, the delivery feels sublimely silky and studded with oak-like honey. And just when you think you've savoured it all, you are surprised by a hefty second wave of spice. This is followed by a cloudy, smoky feel that coats the roof of the mouth and leaves a tidal wave of dry molasses, peaty soot and a degree of copper in its wake.
Finish – Bold has a light finish with a tinge of copper slowly making its presence known. You can also sense a gorgeous smoked mocha shaped by delicate and intricate spices.
***
Limited edition Paul John Oloroso – A limited edition of the Indian single malt from the sunny Goan coasts, Oloroso presents an aromatic tapestry of complex yet gorgeously weighted fragrances, from toasted honeycomb to figs and a touch of dry raisin. Matured for 3 years in American bourbon barrels and finished in sherry casks for 4 years, its creamy flavours offer a delectable blend of barley with grape. The intense sherry richness towards the end, gives this rare whisky its name. The finish is long and luxuriously spiced, with a cocoa tinged vanilla.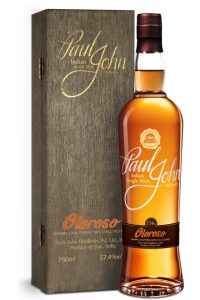 Colour – Dark Amber.
Nose – Complex and gorgeously weighted, toasted honeycomb, dry resin, Dates, figs and apricot, its almost an aromatic tapestry.
Palate – Magnificent mix of barley and grape, sweet and creamy, intense richness of sherry in the end.
Finish – Long and luxurious, with pulsing vanilla-cocoa mix and a build-up of spices.
Pairing – This extremely complex whisky needs food that can complement it well. Tender, juicy steaks and blue cheese can help you unravel every nuance of this magnificent malt from Goa.
***