Vetro presents the best of authentic Italian cuisine. The menu at Vetro focuses on light and delicate food for corporate guests and also provides the perfect setting for social afternoons. Guests can choose from a wide selection of Italian classics, hearty soups, home-made pastas, risottos, seafood and meats.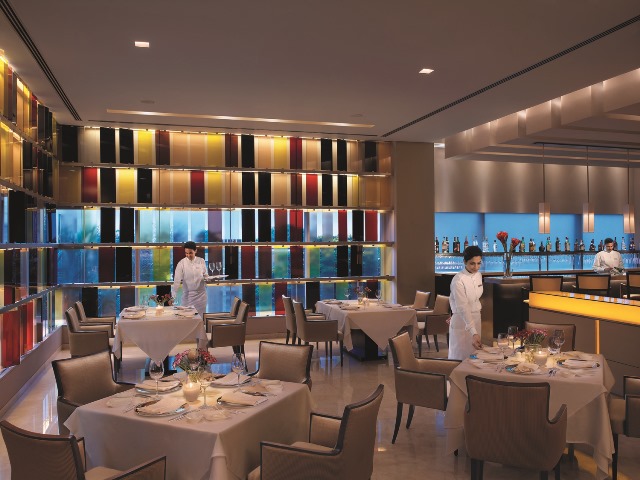 Devour our Chef's special menu with 3-4 courses paired with wines
NOTE : Vetro is only offering a set course meal paired with  wines, for 30% off on wines please visit Opium Den at the same hotel.
Set Course Menu – Price: Rs. 2750 all inclusive
Set Menu Wines
Santa Digna Sauvignon Blanc, Chile & Pegus Bardolino, Italy
First Course: APPETIZER (Choice of 1)
Tomatoes and buffalo mozzarella (V)
basil, arugula, extra virgin olive oil
Minestrone (V)
chilli oil, basil pesto, quadrucci pasta
Second Course: MAINS (Choice of 1)
Truffle filled gnocchi (V)
buttered baby vegetables
Asparagus risotto (V)
pine nuts, pecorino sauce
Aubergine "alla Parmigiana" (V)
buffalo mozzarella, basil oil, tomato sauce
Seafood risotto
prawns, squid, octopus, calamari
Pan seared bekti
eggplant, zucchini and pepper caponata, morels
Slow roasted chicken
confit potatoes, honey crystals, caramel sauce
Third Course: DESSERT (Choice of 1)
Tiramisu
raspberry sorbet
Gorgonzola cheesecake
red wine poached pears, red wine and cinnamon ice cream
Address: Vetro, lobby level, The Oberoi, Mumbai
Website:  www.oberoihotels.com