CLYNELISH STORY
The original distillery at Clynelish was purpose built to
serve the new farms being established on the fertile land
of Sutherland's coastal strip. For a cost of just £750 in
1819, the future Duke of Sutherland was able to provide
a ready market for the barley grown by his tenant
farmers. It's from these origins that we're able to enjoy
the highly regarded Clynelish today.
The economic recession of 1931 forced the distillery to
close. Production restarted in 1938, only to shut down
again from May 1941 until November 1945 due to
restrictions on the supply of barley during World War
two.
In the 1960's, Clynelish was brought up to date when
electricity was installed and still which had previously
been heated by a hand-fired coal burning furnace were
converted to internal steam heating. Then, true to its
origins as a model design, Clynelish was replaced by a
new distillery built on an adjacent site in 1967-68.
PERFECT SERVE
Clynelish 14 Year Old has floral fragrances and maritime
flavours with a light, dry finish, best appreciated on the
rocks or neat.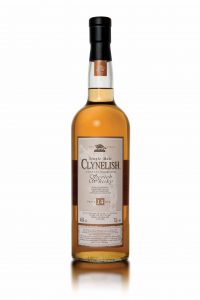 Appearance: Yellow Gold
Nose: Light candle wax, sugar. Faint floral fragrance. Scented
candle wax comes up with water. Dried flowers on a beach. Later,
brown sugar
Body: Firm, light to medium
Palate: Pleasant, creamy mouthfeel; maritime generally
Finish: Some salt, dryish, attractive slight bitterness