DALWHINNIE STORY
The distillery was founded by Grant, Mackenzie and
Sellar in 1898 (when known as Strathspey distillery). Its
name derives from the Gaelic for a 'meeting place' of
sheep and cattle drovers. It is incredibly remote but was
purpose built to be close to the geographic centre of the
Highlands and enjoy easy access to the reliable link to
market offered by the new Highland Railway. This helped
the distillery to survive its fragile beginnings.
As well as being a fine distillery, Dalwhinnie also has the
distinction of being an official weather station, with one
of the lowest recorded average temperatures in Great
Britain.
PERFECT SERVE
Dalwhinnie 15 Year Old is a smooth, creamy, fragrant
whisky. Heather, honey and delicate sweet spice notes
make it the Gentle Spirit that is best enjoyed neat or
on the rocks.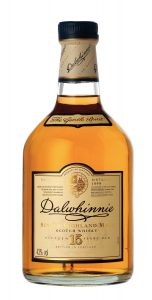 Appearance: Gold
Nose: Crisp, dry and very aromatic with hints of heather and peat
Body: Light to medium
Palate: Smooth and lasting flavours of honey sweetness & vanilla
followed by deeper citrus flavours
Finish: Lingering, starts sweetly, then gives way to smoke & peat