LAGAVULIN STORY
Founded in 1816 by local farmer John Johnston,
succeeding more than 10 illicit stills that had previously
been on the site. Now one of eight operating distilleries
on Islay off the west coast of Scotland
Named Lagavulin after a Gaelic word meaning "the
hollow where the mill is"
Aged in ex bourbon casks, the high levels of peat,
coupled with its rich flavours make this the definitive
Islay malt and the Holy Grail for many whisky drinkers.
PERFECT SERVE
Lagavulin 16 Year Old is an intense, smoky-sweet single
malt with seaweed flavours and a huge finish, aged in oak
casks for at least sixteen years. This is best appreciated
neat or on the rocks.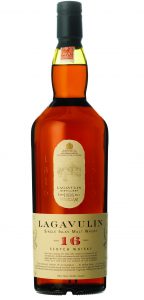 Appearance: Deep Amber Gold
Nose: Intense peat-smoke and a rich, deep sweetness
Body: Full
Palate: Srong and intense with a rich, dried fruit sweetness &
peppery smoky
Finish: Huge, long and warming