CRAGGANMORE STORY
The Cragganmore Distillery was founded in 1869 by John
Smith, who is said to have been the most experienced
distiller of his day. He had been manager of Macallan,
Glenlivet and Wishaw distilleries, and was lease-holder of
Glenfarclas Distillery when he persuaded his landlord, Sir
George Macpherson-Grant, to lease him the land to build
a new distillery at Ballindalloch beside the Strathspey
railway line.
Cragganmore was the first distillery to be deliberately
sited to take advantage of the railway line and a private
siding was built to accommodate distillery traffic. John
Smith was a great railway enthusiast, but since he
weighed 22 stones (140kg) and was too wide to enter a
railway carriage, he was obliged to travel in the Guard's
van.
PERFECT SERVE
Cragganmore 12 Year Old is one of the most complex
single malts with layers of sweet floral fragrances, wood
smoke, riverside herbs, vanilla and cereals. It is best
enjoyed neat or on the rocks.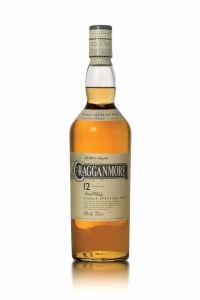 Appearance: Gold
Nose: A combination of sweet floral fragrances, riverside herbs and
flowers with some honey and vanilla.
Body: Firm, rounded, light to medium
Palate: A strong malty taste with hints of sweet wood smoke and
sandalwood.
Finish: A long, malt-driven finish with light smoke and hints of
sweetness.