OBAN STORY
Fine single malt whisky has been made here in Oban for
over 200 years, in one of the oldest licensed distilleries in
Scotland. In effect, the town grew up around the
distillery and since its foundation in 1794 it has played a
crucial role in local life. Oban is the frontier between the
West Highlands and the Islands; the meeting place
between land and sea.
In 1883 the unforgettably named J. Walter Higgin bought
the distillery. Between 1890 and 1894 he dismantled and
rebuilt it bit by bit, in order to keep it in production – such
was the demand for Oban Single Malt Scotch Whisky. He
carefully replicated the famously small stills and other
traditional features in order to preserve the quality of the
whisky.
The distillery buildings and their internal arrangements
remain almost the same today as they were following
Higgin's refurbishment.
PERFECT SERVE
Oban 14 Year Old has a rich sweetness followed by a
smokey dryness that is best appreciated neat or on the
rocks.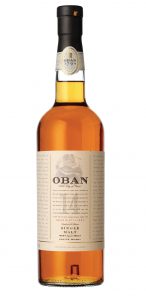 Appearance: Olive Gold
Nose: Rich sweetness and oranges & lemons with sea-salt and
peaty smokiness
Body: full, rich
Palate: Mouth filling, dried figs and honey-sweet spices, followed
by a smoky, malty dryness
Finish: Long, smooth-sweet finish with oak-wood, dryness and a
grain of salt