CARDHU STORY
Cardhu Distillery-previously called Cardow-must be one
of the best-located distilleries in Speyside. High on the
hills on the north side of the Spey Valley with extensive
views to the south, it is also the spiritual home of Johnnie
Walker; the number one blended Scotch whisky in the
world.
By the time John Cumming bought a license for his
Cardhu distillery in 1824, he and his wife Helen had
already been producing illicit whisky for 13 years.
Whenever the Excise officers passed by, Helen would
disguise the mashing and fermenting as bread-making.
Then, while the officers drank the tea she made for them,
she would fly a red flag from the barn to warn their
neighbours that revenue men were around.
PERFECT SERVE
Cardhu 12 Year Old is a generous, multi-layered malt
whisky. Richly fruity, with honey and nut flavours, it is
best enjoyed neat or on the rocks.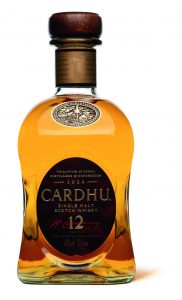 Appearance: Golden Honey
Nose: Heady, pear drops and sweet honey-nut notes, with faint
traces of wood smoke
Body: Soft, pleasing, medium
Palate: Well balanced, sweet and fresh, then a pronounced drying
effect
Finish: Short, lingering sweet smoke with an attractive, drying
aftertaste